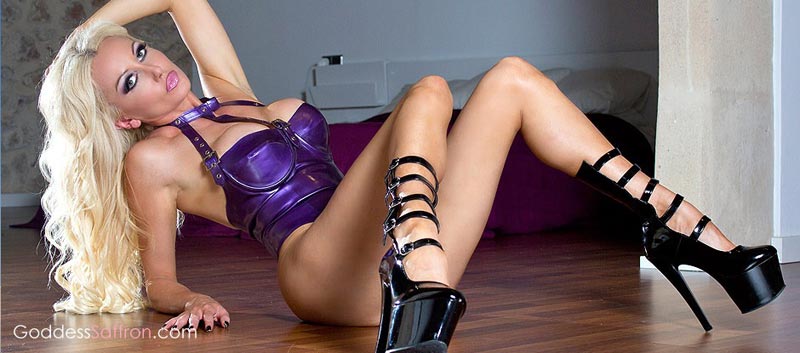 Apply to be a numbered slave
To become a fully fledged numbered slave of Mine, you will need to apply as a slave.  Once approved you will earn the numbered slave badge and slave points in heObeys.com – My online slave training, interactive workhouse and slave community. Your slave number will appear on your heObeys slave profile. You will also be labelled a numbered slave.
If you have just been approved and received your slave number, good boy.  Firstly, you will add "slave [Number] owned by @goddesssaffron" somewhere on your twitter profile. This is My way of branding slaves and remembering who you are. If you do not have a Twitter account, get one now.
Complete Slave Training Courses

If you haven't done so already, I you will begin your slave training at heObeys.com and graduate at least from both Beginner and Intermediate Slave Training Courses. Each completed course will earn you an achievement – lowering your male ego.
Now it is time for you to begin your slavery by serving Me consistently via the following methods:-
Onlyfans – Tasks, Messaging and Chat

Ensure that you are subscribed to SaffronFans.com My Onlyfans page, which is currently ranked in the top 1% of all Onlyfans creators.  By being a subscriber, this is the only way to directly communicate with me via DM 7 days per week.  Also you will get access to my multiple daily content updates, behind the scenes pics and much more.  you will also access My photos, clip teasers, candid pics and videos, femdom motivational memes, plus it is an easier way to tribute too.
Many slaves crave closeness to Me, their Goddess and want to receive personal slave tasks.  This is your priority once you have finished your slave training tasks.  On your heObeys dashboard, you will find a daily task, which I expect you to complete every day.
Tributes and Gifts
Make me notice you by showering Me frequently with tributes and gifts (of any value) at SpoilSaffron.com and never ever forget occasions such as Valentines Day, Easter, Christmas and My Birthday in September. Tributing is by far the fastest way to get My attention and reduce your male ego in heObeys.com.
Get on My List

Never miss anything to do with My world. Ensure you subscribe to My newsletter. Do not forget to click the link in your confirmation to confirm your subscription. If you don't receive one, check your spam folder.
Promote Me
One of your duties as My slave is to go out like a good little soldier and recruit as many new slaves for Me as possible. Go online and promote my website GoddessSaffron.com, SaffronFans.com, and heObeys.com on social media and everywhere where there are potential new slaves. Don't put Me on YouTube though, as I am selective as to what goes on there.  By promoting heObeys.com you will earn more points when using your referral link or sending email invitations.
Although not exactly serving, the following are absolute basic expectations from My slaves:-
Buy My clips
Ensure you have purchased all my clips and continue to buy new releases at iWantSaffron.com or at GoddessClips.com
Even if you don't like the latest clip fetish, buy it anyway, I don't care what you think. I am not here for your pleasure – you are here for Mine. By buying My clips you increase My ranking on clip sites, which leads to more slaves within My Empire. Make sure to use My IWC markup codes too. Another good idea is to buy My clips over and over again even if you've already downloaded them, all for the pleasure of buying them.
Order Custom Videos
Order a video clip made from your very own script and ensure it is accompanied with a tribute. iWantGoddessSaffron.com
If you are a numbered slave, welcome to my army of submissives. Power is in numbers and I expect My army to ensure that My Empire is unmatched. Now get on with becoming a useful cog in a huge machine!
Remember to serve frequently.  Infrequent servitude will risk having your slave number revoked.
your Goddess
Goddess Saffron