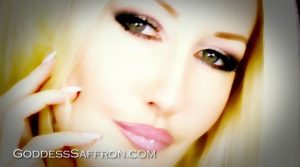 Welcome to the official website of Goddess Saffron, Femdom, Femme Fatale, Hypnosis Specialist and Financial Dominatrix.
For those of you who have just found Me – Congratulations! – your life is about to take on a new chapter.  Maybe you are in search of a new owner or Mistress.  Well, lucky for you.. you have most likely accomplished your search for the perfect Domme.
Now let Me tell you more about Myself..
I began My career as a model, drawing in male attention to My Divine carnal envelope.  It was only with the launch of My first latex fetish photoshoot that I became quickly known as the latex model.  It was then when latex became My speciality.  It felt right on my body. I commanded obedience when I wore it.  My true inner Domme began to flourish.  Soon I was attracting more and more submissive males into the Empire of Saffronism.  But then something changed when I began taking phone calls from multitudes of admiring males on sites such as Niteflirt.  It quickly became apparent that I had a voice for hypnotism.  The number of repeat callers, simply longing to hear my soothing English accent caress their submissive minds increased by the day.  I had a natural skill that I was previously unaware of.  I could hypnotise people simply by talking about anything I wanted to.  They became mine. I owned their mind, their body and their actions.  I then decided to invest in My natural born skill and underwent the study of hypnosis techniques, both in general and clinically uses.  I became hooked.  Something just clicked in My mind – with My naturally dominant persona and newly unleashed skills in hypnosis – I am a true, rare, natural hypnodomme.
As a creative individual, I craved an expression for my creativity and femdom content production became My forte.  As expected my femdom hypnosis content became number one sellers on various content platforms.  It even exceed the sales of my latex fetish content.  This was My new direction – My new focus of attention.  It allowed me to be My usual dominant and sensual self, yet at the same time allowed Me to fullfil My need for creative projects.  I have since remained a consistent top ranker in the categories of mindfuck and mesmerize (hypnosis).
I just love to captivate your attention whilst you willingly open that slutty mind of yours and allow me to fuck it deeply into submission.  The combination of femdom hypnosis, fetish and femdom content, along with my other skill – financial domination, has contributed to a plethora of content in my huge archive.
But how can you serve me, you may ask?  You see, I am a great believer in female supremacy.  My body was designed to be worshipped from head to toe.  You will do this by way of serving Me.  Simple! You will learn how to serve me, then you will eagerly submit your slave application.  To fuel your addiction, I want you to now buy at least 5 of my Femdom video clips or search for your favourite fetish video in the video categories list.  Yes My pet, you have found your rightful place – at My feet.  Start your journey by browsing my huge collection of femdom video clips.
– Goddess Saffron